Although I've never seen it, the kitchen of The Tapp in Tarrytown has been described to me as a "corner space with a hot plate." Although I'm sure it's a little more comprehensive than that, it's hard to imagine a vast, commercial kitchen filled with the latest gadgets fitting into that space—well, until you try the food.
The Tapp's predecessor, Brute on 9, had no menu. It was a place you'd frequent when you were looking for a quiet drink—a handful of people, a few frosty beverages and you'd be on your way, stomach growling.
But the new place has changed that—not to mention the décor and ambiance—and a big part of that has to do with Chef Alexa Wilkinson. Although fresh out of culinary school, Chef Wilkinson works with what she has, creating dishes like a seasoned expert. If the kitchen's size is an obstacle, you certainly don't taste it in the food.
With a name like The Tapp, you might have expectations for pub food, but Chef Wilkinson has created a menu far beyond the traditional. Yes, beer finds it's way into some of the food—the Weiss Bier Mach and Cheese ($8), for exmaple combines creamy, buttermilk mac and cheese with the Weiss Bier on draught.
But some of the best dishes steer clear of alcohol ingredients. If your drink selection pairs well with it, opt for the lemon and garlic sautéed shrimp ($10). Served over micro greens with a side of Cajun remoulade, the shrimp is flavorful and cooked to perfection. It's not enough to fill you up, but it definitely gets you started.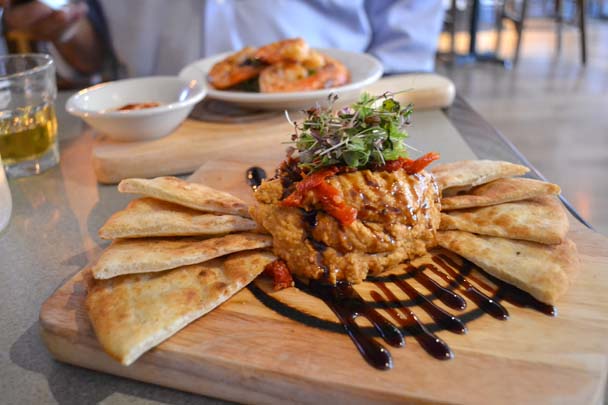 If you're looking to snack on a few small plates, I would also recommend the house made hummus served with a balsamic glaze and topped with sundried tomato ($6).
The menu also includes a variety of salads (under $13), pizzas (starting at $9) and "sammiches" ($12 and under—go for the panini d umbria), but some of the best dishes of the evening are found on the daily specials menu. Offering a salad, entrée and dessert created with seasonal ingredients, the speciality menu is where you see Chef Wilkinson not only play with flavors, but generally hit the ball out of the park. (If you start following The Tapp or Chef Wilkinson on Facebook, be warned—pictures of these amazing dishes come up daily and are enough to tempt you to change your dinner plans… guilty!). Previous specials have included dishes like grilled peach and blackberry salad  topped with feta cheese, toasted pine nuts and chopped crispy bacon before drizzled with a white wine pomegranate vinaigrette. Uh, yum!
IntoxiKate Tip!
Look for The Tapp's sister restaurant, The Mill, coming to Hastings-on-Hudson next month!
{The Tapp, 17 North Broadway (Rte. 9), Tarrytown, 914-703-6022, thetappny.com}