This is Tina, a.k.a Cheftini! I am a cooking show host and recipe blogger who loves to cook, I'm thrilled and honored to be contributing some of my favorites here with IntoxiKate. It's hard to believe we are just days away from our most Thankful Holiday … Thanksgiving! I love Thanksgiving for so many reasons, but mostly because it is the one special time of year when we all gather together to celebrate all our blessings.
I for one feel blessed to have been handed down so many family recipes and traditions.Growing up in an old fashioned Italian family food was always the center of every holiday. I canstill picture my Mother in our kitchen preparing and planning holiday meals. A tradition that I now carry on with my children.
While we always have the traditional Thanksgiving fare, our holiday dinners usually have a touch of Italian undertones. Sure there's turkey and stuffing, maybe even some sweet potatoes (roasted with evoo and sea salt of course), but more often than not there's gonna be antipasto, pasta, oh and about 12 other side dishes too. One of those sides is usually some sort of fried eggplant with cheese… lots and lots of cheese!
One of my favorites to make all year round, but especially for our "Italian Thanksgiving" is Eggplant Rollatini. There's just something about that sliced breaded eggplant rolled with ricotta cheese and baked in my favorite sauce that just makes our Italian holidays complete.
If you're looking for a touch of something different on your Thanksgiving Day table then try my Baked Eggplant Rollatini recipe. With a little slice, roll and bake you can have a little Italian on your table too! Happy Thanksgiving and Enjoy!
Baked Eggplant Rollatini
INGREDIENTS
1 Small adult eggplant
2 cups breadcrumbs seasoned with fresh parsley, salt and pepper
3 large eggs divided
1 cup ricotta cheese
1/2 cup parmesan Grated,divided
1 cup Mozzarella Cheese diced
3 T. Mozzarella Cheese shredded
1 T. Italian Parlsey Chopped
3 Cups Simple San Marzano Sauce or basic tomato sauce
canola oil for frying
3 T. milk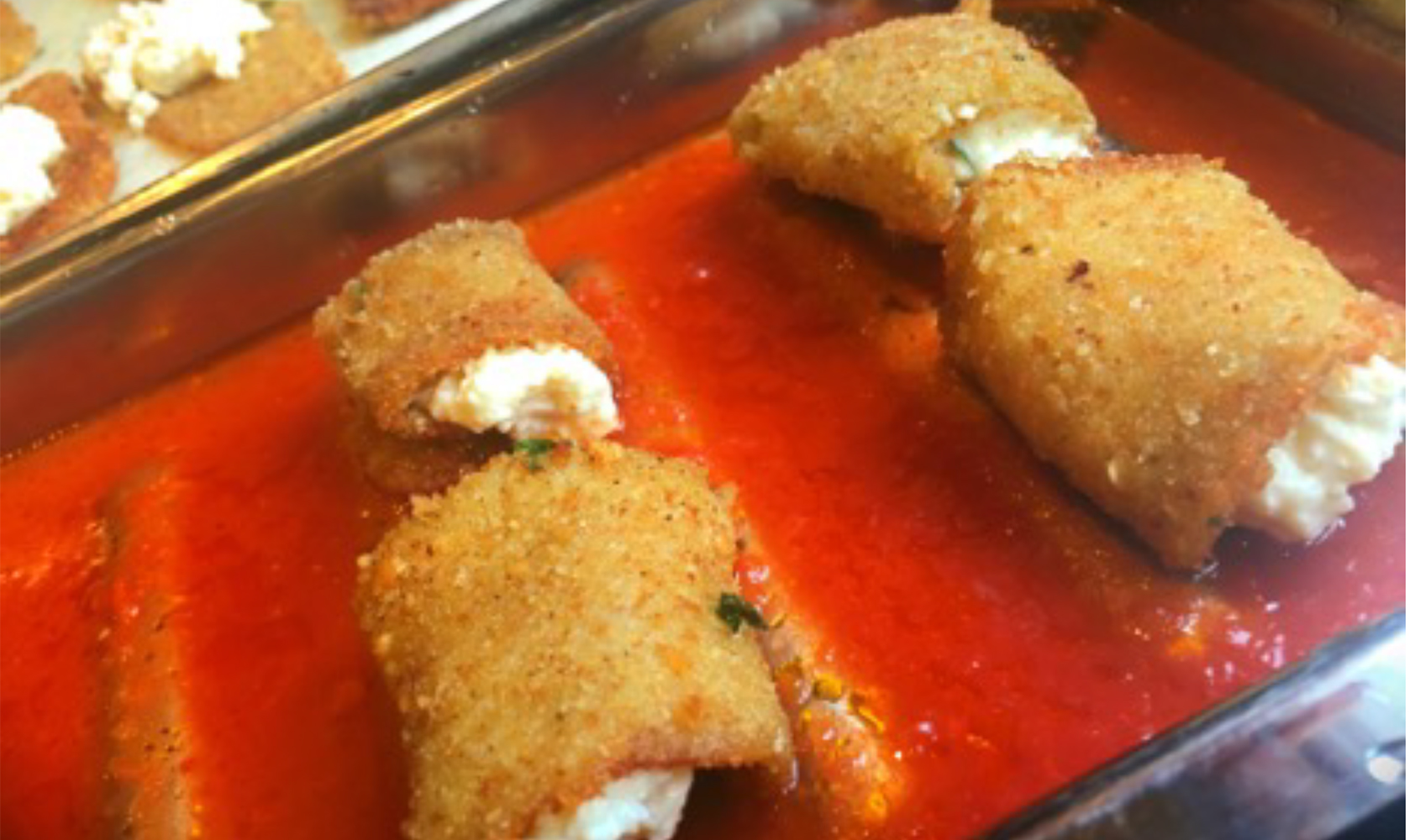 DIRECTIONS
Peel and slice the eggplant into 1/8″ pieces. Place breadcrumbs in a shallow bowl with a tablespoon of fresh parsley, salt and pepper to taste. Mix 2 eggs with a few tablespoons of milk in another shallow bowl for egg wash. Dip both sides of eggplant into egg wash and then breadcrumbs and set aside onto a baking sheet lined with parchment/wax paper. Heat oil in a large Saute pan; begin frying the eggplant until just golden brown. Place on a baking sheet lined with paper towels until all the eggplant are done.
In a bowl mix ricotta, most of the Parmesan cheese, and diced mozzarella cheese. Add 1 egg, chopped parsley and mix well. Tip: make sure the mixture is not fluid,it should be a thick filling.Lay eggplant slices out and dollop a tablespoon (or so) of ricotta filling onto the lower third of the slice. Spread out a bit with the back of a spoon and roll up three times. Repeat until all eggplant have been filled.
Place a cup of tomato sauce on the bottom of an oven safe baking dish with a few tablespoons of water, swirl around. Place the eggplant roll ups, folded side down, into the baking dish. Cover with more sauce, top with more grated parmesan and the shredded mozzarella. Bake in a preheated 400F oven for 20 minutes covered with aluminum foil. Remove the foil and transfer the baking dish to the top rack, continue baking for an additional 12 minutes or until the filling is completely cooked. Let cool a few minutes and then serve.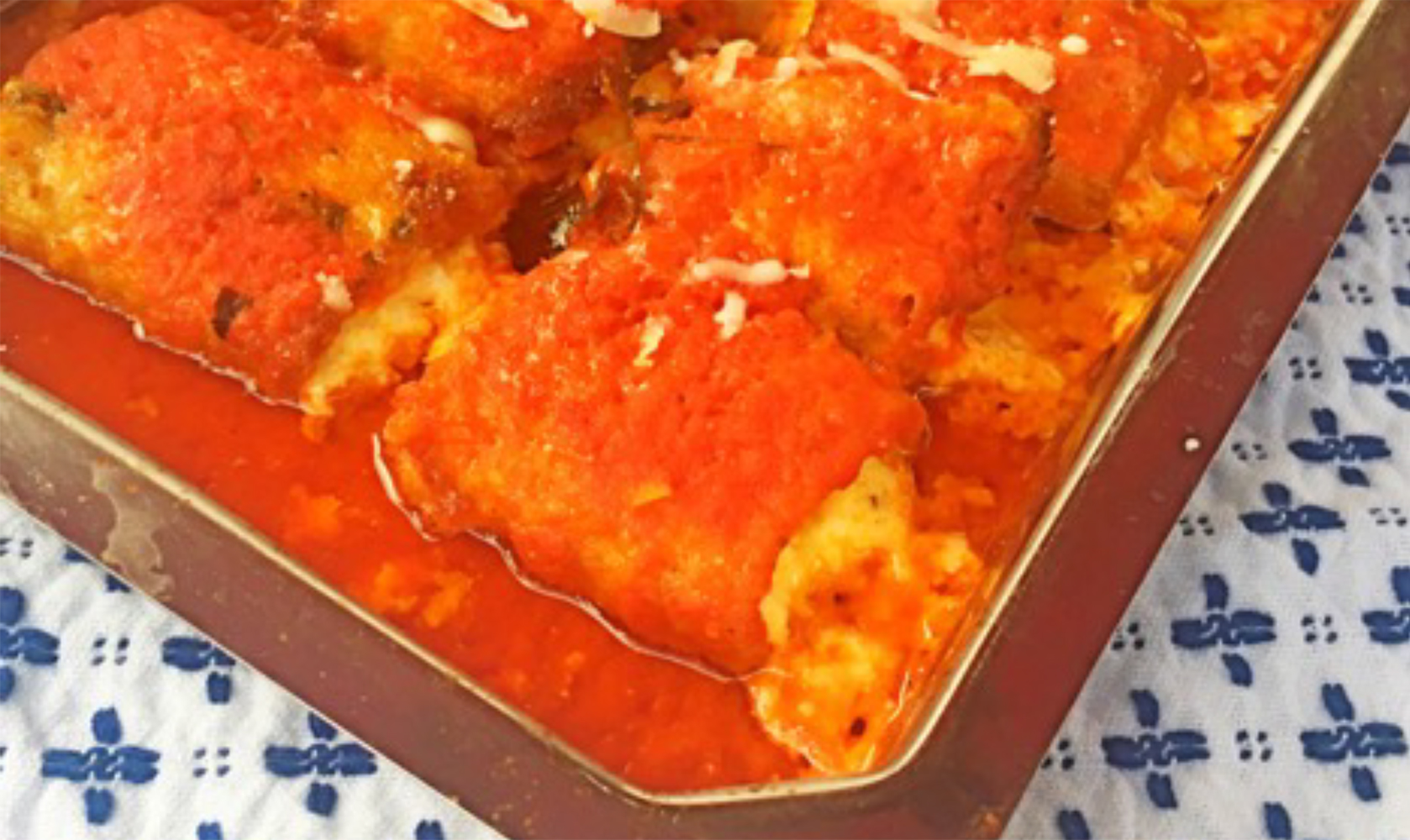 For more about Tina and her recipes please visit her website Cheftini.com
Connect with Tina @cheftini on Instagram and Twitter