L'inizio's Chef Scott Fratangelo's Seafood Marinara Recipe
For the first time ever, Chefs Scott and Heather Fratangelo are opening L'inizio for Christmas Eve, offering 'Feast of the Seven Fishes'-style a la carte specials from 4:00 to 9:00 PM. The Italian-American celebration includes—
Antipasti
Tricolor Salad: radicchio, endive, arugula, balsamic vinaigrette, pecorino pepato
Seafood Fra Diavolo Toast: clams, octopus, calamari, shrimp
Crispy Calamari: graham cracker crust, arugula, black garlic aioli
Secondi
Pappardelle with Maine Lobster: leeks, tarragon pernod cream
Faroe Island Salmon: parsnip puree, hen of woods mushroom, roasted parsnip, almonds, dill
Pastry Chef Heather rounds out the dessert course with seasonal specials, including Eggnog Panna Cotta with Cranberry Biscotti, Gingerbread Cake Pudding topped with Tiramisu Cream, and a Chocolate Hazelnut Fudge Cake with Nutella Mascarpone.
The duo strongly suggestion reservations be made ahead of time at 914-693-5400.
Planning on cooking your own Feast of the Seven Fishes? Check out Scott's recipe for Seafood Marinara below!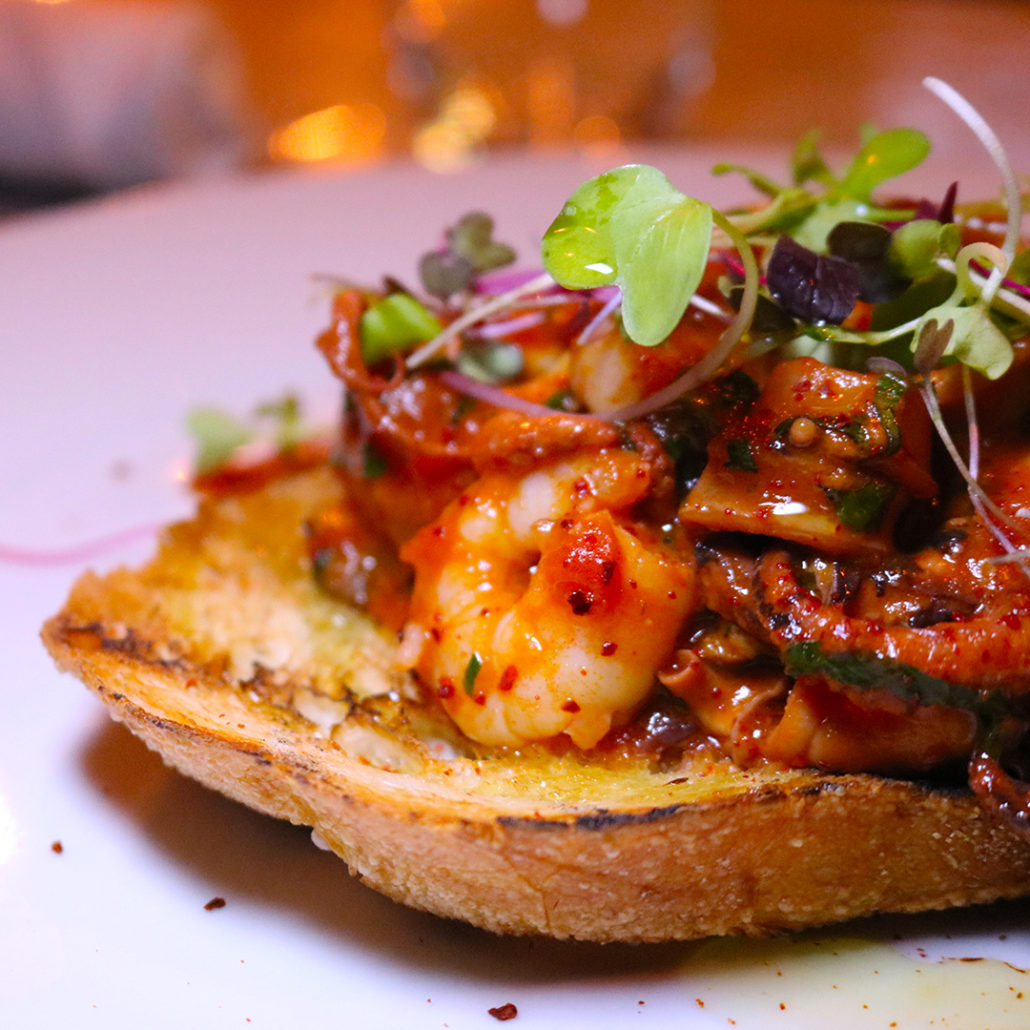 Chef Scott Fratangelo's Seafood Marinara Recipe
Ingredients
1 lb small shrimp (peeled and deveined)
1 lb calamari 
1 lb scungilli 
1 lb mussels (optional) 
1 small can of chopped clams and juice (2-21/2cups) 
2-1/2 c tomato sauce 
1-1/2 c olive oil 
1 c white wine 
6 cloves garlic sliced thin
1 lemon juice and zest 
10 basil leaves torn
1/2 bunch Italian parsley chopped 
Red pepper flakes to liking 
Directions
Toast the garlic in the olive oil in a large pot or sauté pan until light brown. Add the calamari, scungilli (no juice), and shrimp followed by the white wine. Reduce by 1/4 and add the lemon zest and juice, clam stock, and the tomato. Let reduce by half. Add the mussels. Once the mussels open, let simmer until tomato sauce consistency. Add salt to taste, red pepper, basil and parsley leaves. Finish with some olive oil for shine. Plate in a bowl or on top of toasted bread.
Scott Recommends
For the seafood: A&S Seafood: 4 Williams St., Elmsford, NY 10523, anselmsford.com, 914-592-9250
For the pantry ingredients and fresh herbs: DeCicco's & Sons: 21 Center St., Ardsley, NY 10502, deciccoandsons.com/ardsley, 914-813-2009
For the toasted bread: The Kneaded Bread: 181 N. Main St., Port Chester, NY 10573, kneadedbread.com, 914-937-9489