It's that time of year again! The Valley Table's Hudson Valley Restaurant Week 2017 kicks off today and runs until March 19th, offering a three-course lunch menu for $22.95 and three-course dinner for $32.95. (Please note: These prices and exclusive of drinks, tax, and tip.) As always, I've rounded up my IntoxiKate picks for #HVRW. After scouring the available menus, the restaurants featured below highlight some of the most delicious dinner options tantalizing those tastebuds.
IntoxiKate's Hudson Valley Restaurant Week Picks*:
Boro6 Wine Bar
Since it's opened, I've heard nothing but good things about this river town wine bar. I scoped out the location when it was closed, but I'm looking forward to trying it during restaurant week.
Appetizer: The arugula appetizer salad with bresaola, shaved fennel, and parmesan.
Entrée: You know I can't say no to a charcuterie board with cornichons, quince paste, and artisanal honey. Pair that with a glass of wine! #yesplease
Go: 549 Warburton Ave., Hastings-on-Hudson, 914-231-9200, www.boro6winebar.com
Bonus: Afterwards, I want to swing by Penny Lick Ice Cream for some all-natural Honey Graham ice cream to go.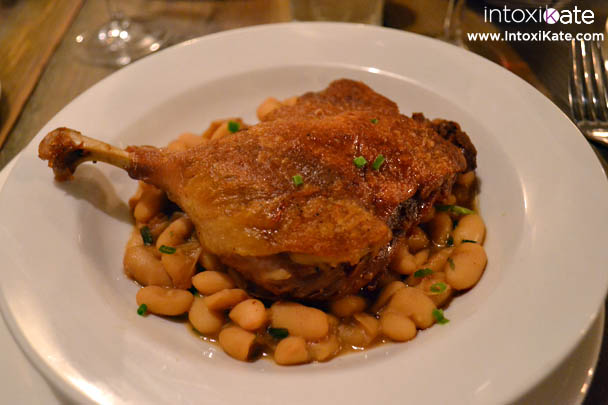 Harper's Restaurant & Bar
Okay, I'll admit it. Harper's is on my list EVERY year, because I am positively obsessed with Chef Chris Vergara's Hudson Valley Duck Confit. Pair it with one of the eatery's banging craft cocktails, and you've got one heck of a meal on your hands! Please note: The HVRW dinner menus is available Sunday to Thursday only.
Appetizer: Mushroom Toast Gruyere with Madeira (a fortified wine hailing from the Portuguese island of Madiera) and fried egg
Entrée: Hudson Valley Duck Confit with frisee, plum jam, and toasted almonds. (Didn't see that one coming, did you?)
Dessert: Salted Caramel Pot de Crème with hazelnuts, sea salt, and whipped cream.
Go: 92 Main St., Dobbs Ferry, 914-693-2306, harpersonmain.com
Crabtree's KittleHouse Restaurant & Inn
If you don't know by now, you need to go ahead and taste it—Executive Chef Jay Lippin celebrates the bounty of the Hudson Valley like no other. He's not only making incredible dishes derived from local ingredients, but he's working with farmers to bring back produce originally harvested here.
Appetizer: Hudson Valley Dandelion Green Salad with spiced almonds, pecorino, and a lemon herb vinaigrette.
Entrée: Ricotta Gnocchi Bolognese with Highland Farm venison, Helder Herdwyck pork,  and Hudson Valley grass-fed beef.
Dessert: Chocolate Panna Cotta with espresso crème anglaise and chocolate chip biscotti.
Go: 11 Kittle Rd., Chappaqua, 914-666-8044, www.kittlehouse.com
Dubrovnik Restaurant
Listen, Hudson Valley Restaurant Week offers the perfect excuse to check out a new restaurant, and I'm embarrassed to say Dubrovnik is still on my list. I can't wait to try the chef's take on American Croatian cuisine.
Appetizer: Grilled Shrimp and Calamari with white cabbage salad.
Entrée: Chicken "Tetka Nikica" served with mashed potatoes, wild mushroom sauces, and truffle oil.
Dessert: Croatian style crepes with fruit jam.
Go: 721 Main St., New Rochelle, 914-637-3777, www.dubrovnikny.com
Tomorrow's Fork This with IntoxiKate episode features my Hudson Valley Restaurant Week picks, as well as interviews with chefs and sponsors participating in the event. Make sure to tune into 1490 WCGH or listen live at wgch.com for the full scoop at 6 p.m.
Sapori Italian Restaurant
I heart this cozy little Italian eatery on Central Avenue in White Plains.
Appetizer: Vongole Oreganata aka baked clams with seasoned bread crumbs.
Entrée: Vitello Funghi includes scaloppini veal and assorted fresh mushrooms in shallot brandy sauce.
Dessert: Tiramisu.
Go: 324 Central Ave., White Plains, 914-684-8855, saporiofwhiteplains.com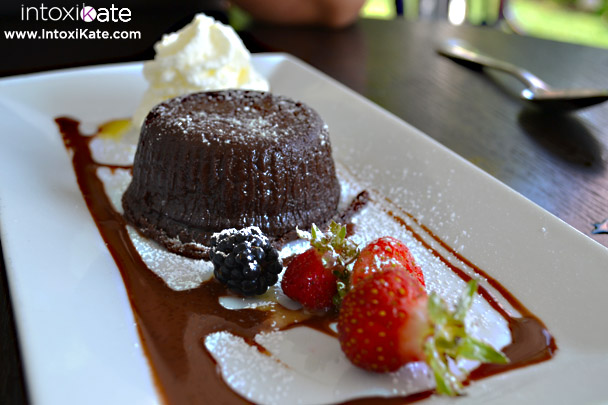 Purdy's Farmer & The Fish
I recently had a conversation about favorite seafood spots with a fellow Westchester foodie, and Farmer & The Fish kept coming up. It's seriously a no-brainer—it is one of the best places for fresh fish (and veggies to boot). Please note: The Hudson Valley Restaurant Week menu is only available Monday to Thursday.
Appetizer: Go for the Raw Bar!
Entrée: Barnegat Light Scallops with greenhouse herb risotto and preserved lemon.
Dessert: Warm chocolate cake with bourbon walnuts. The above photo is a banging warm chocolate cake I enjoyed over the summer at this hot spot, and doesn't reflect the actual dish on the menu. (But it looked too good NOT to post!)
Go: 100 Titicus Rd., North Salem, 914-617-8380, farmerandthefish.com
Beyond Westchester
Tuthill House on the Mill
Chef Jeremy Berlin pairs local ingredients with French-inspired techniques, all housed in the historic gristmill overlooking the Shawangunk River in Gardiner, NY. The HVRW deal on dinner is offered on Monday, Thursday, Friday, Saturday and Sunday.
Appetizer: Classic Country Pate with pickled baby vegetables, mache, and apple mustarda.
Entrée: Hudson Valley Vegetable Cassoulet cannellini bean stew and olive oil bread crumbs.
Dessert: Trio of Tuthill House Desserts including star anise crème brulee, berry preserve tartlet, and flourless chocolate cake.
Go: 20 Gristmill Lane, Gardiner, 845-255-4151,  tuthillhouse.com
*Please check all restaurant's websites for their full Hudson Valley Restaurant Week menus. The above recommendations only showcase IntoxiKate's picks.