Halloween is the perfect time of year to celebrate something you love, whether that be your favorite TV show, newsworthy moment, or celeb. If you're Stacey Brecher, it's no different! Brecher, a fellow foodie, makes her favorite foods come to life every year with her creative DIY Food Halloween Costumes. Learn how you can steal her styles below…
– – – – – – – – – – – – – – – – – – – – – – – – – – – –
Hi IntoxiKate #FoodieNation! I'm Stacey Brecher and I love making my Halloween costumes from scratch and being a different food every year. You'd be amazed at how easy it is to make your own costume with just a few supplies. I have been a piece of sushi, an ear of corn, a bottle of hot sauce, a cupcake and a roll of Lifesavers. 
Sushi- Flying Fish or Salmon Roe Hat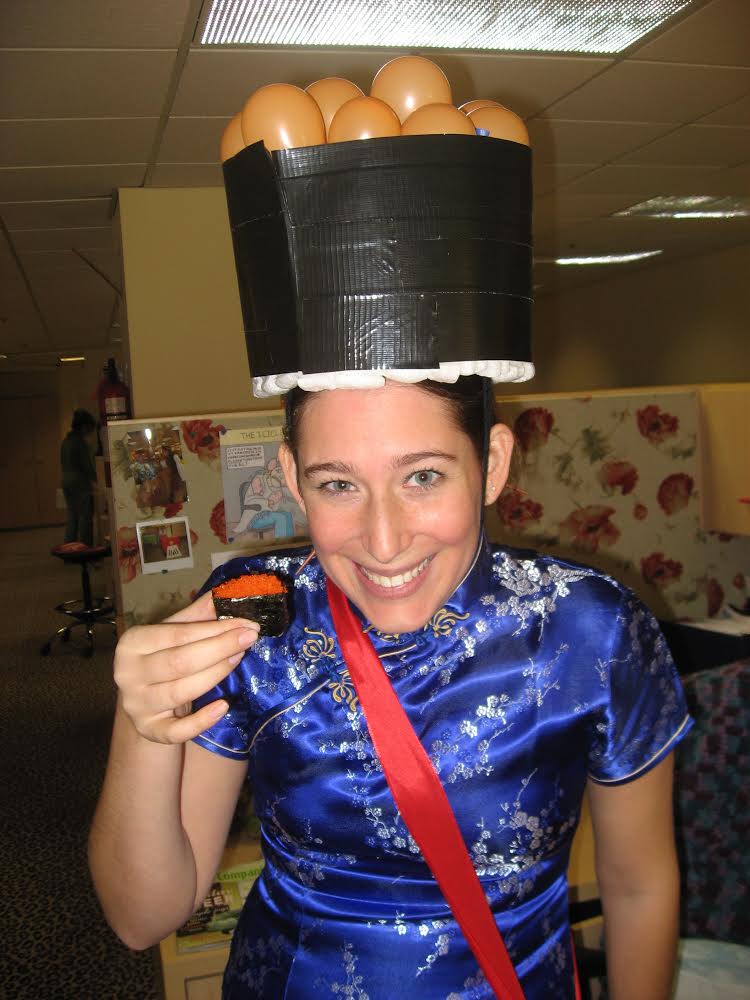 I love sushi so I decided to create a costume that turned me into a piece of sushi. Created from mostly office supplies and balloons this hat really unique and easy to wear. I ordered sushi for lunch so I could "eat me"! Sushi lovers will go nuts for this costume.
Crafty Supplies
-2 File Folders
-Black duct tape
-Packing peanuts
– Glue
-Clear packing tape
-Water balloons in orange or pink
-Ribbon or Elastic
• Open the file folders and cut and tape two together and fit it to your head size then tape in a circle. Using the duct tape, cover the file folder completely creating the look of seaweed. Attach the ribbon or elastic to the inside of the hat so you can secure the hat under your chin.
• Glue a layer of packing peanuts on the inside of the file folder so half of the peanut sticks out the bottom. This will create the look of rice coming out the bottom of the sushi roll.
• Inflate the balloons and using the clear tape, cluster them on the inside of the hat. Leave room for your head to fit and make sure the tops of the balloons peek out the top.
• Pair the hat with a Japanese dress and wear while eating sushi!
Bonus: Pair it with a soy sauce bag! I made this by printing out the Kikkoman logo and gluing it onto a long red paper wine gift bag. I replaced the short handles with long red ribbon to wear it across my chest.
Let's get Corny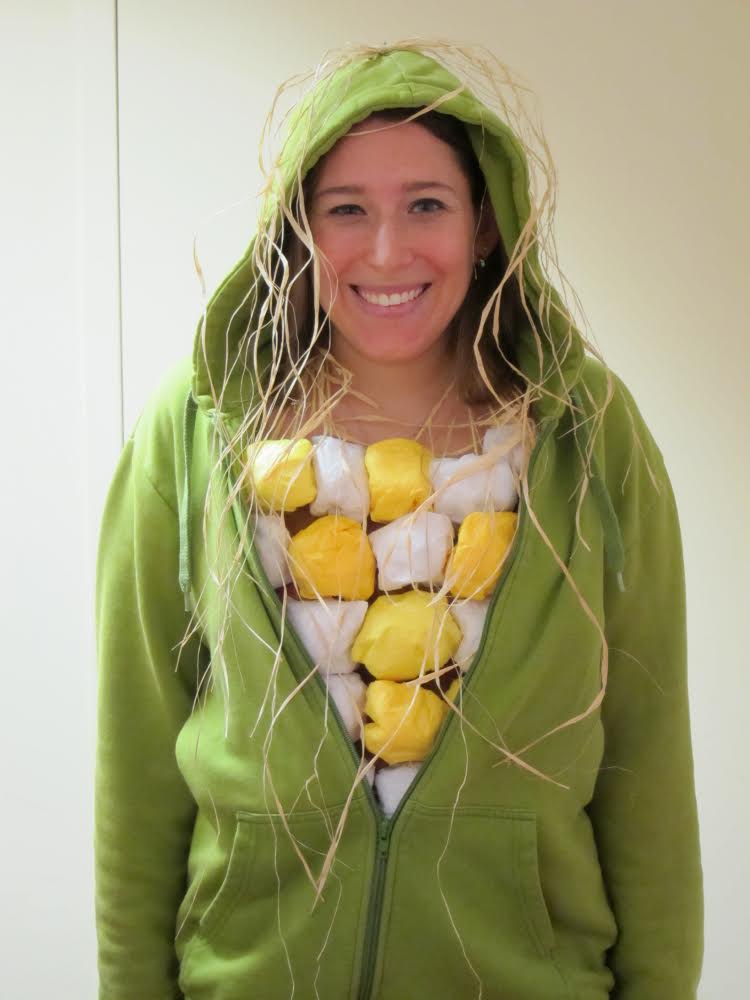 Turn yourself into a fall favorite, an ear of corn! No need for a sexy costume that makes you cold. You get to wear a warm hoodie while looking like an ear of corn.
Crafty Supplies
-Tissue paper in yellow and white
– Yellow Yarn
-Tapestry needle
-Natural Raffia
-Safety pin
-Green hoodie sweatshirt
• Start by crumbling the tissue paper into corn kernel shapes. Make about 25 kernels. Line the kernels up on a table in a square shape 5×5 with the colors in a random pattern.
• Thread the yarn through the needle and start to "sew" the kernels together horizontally by each row. Then connect them by sewing each row vertically. Leave excess yarn at each end. You'll create a breast plate made of "corn" when it is all sewed together.
• Tie all the end to ribbon so you can attach the corn breastplate onto your body. If it falls down use safety pins to secure it to a yellow shirt.
• Using the raffia, attach a bunch of strands together and sttach to the hood of a green sweatshirt.
Hot, Hot Hot!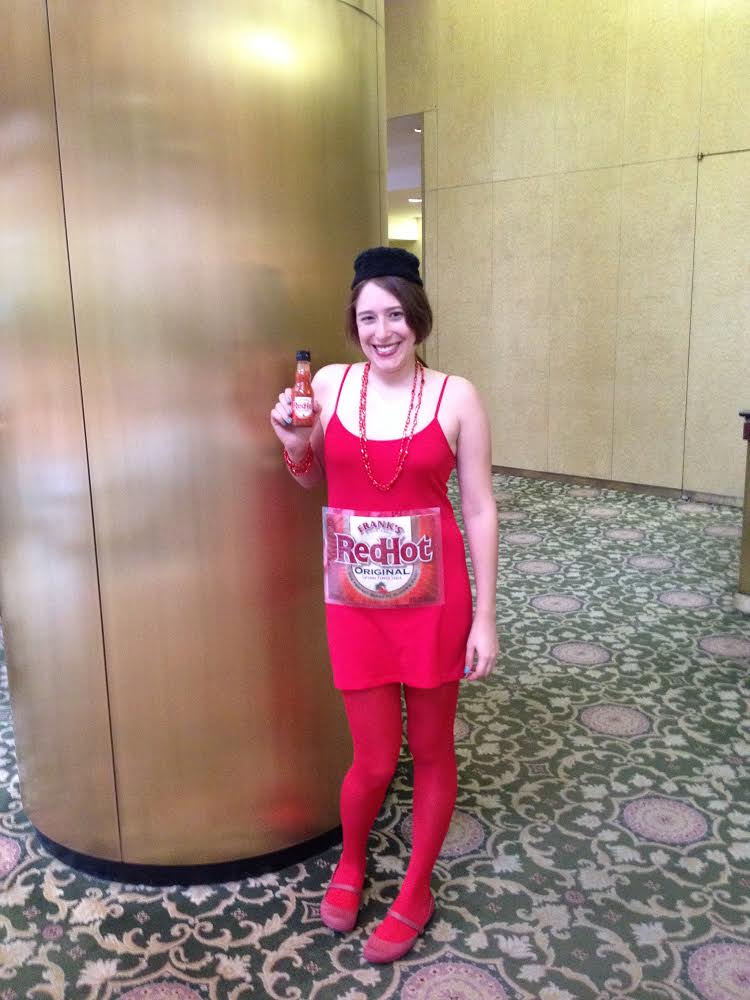 I love Frank's Red Hot and didn't have much time to make a costume. Printing and laminating product logos can help make a fun costume, fast!
Crafty Supplies
-Scanner
-Printer
-Glue
-Red dress or long tanktop
– Red tights
– A small pillbox black hat
-Chili pepper beaded necklace
• Print out an image of the hot sauce logo and laminate it. Glue the image to the front of the dress, or you can pin it to the front. Whichever works best for you to be comfortable wearing.
• I crocheted a simple black hat but you can make one from craft foam or find one at a store that looks like the cap to the hot sauce bottle.
• Complete the outfit with beads, red tights and red shoes.
Bonus: Carry around a small bottle of hot sauce. You'll be surprised how many people will ask for a taste!
Be Sweet: Hostess Cupcake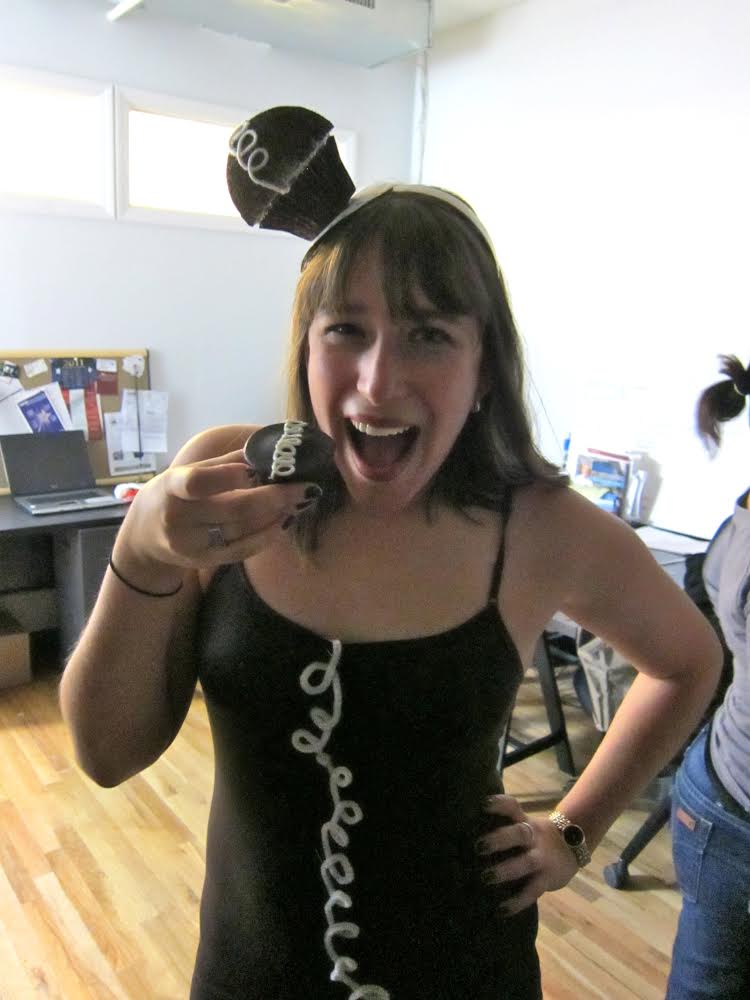 This costume, like many of my other ones, is comprised of a long tank top with an awesome headband addition. You'll need a few more supplies to make this one but its worth it. Hostess loved my costume and featured me on their website a few years ago!
Crafty Supplies
-Brown dress
– Chenille stems in white
-Safety pins
-Styrofoam ball
-Brown Paint
-White yarn
-Cupcake wrapper (aluminum not paper)
-Thick plastic Headband
-Glue
-Small piece of thin cardboard
For the dress
• Using the chenille stems, bend a series of them into a swirl shape and attach to the dress or tank top using safety pins.
• The cupcake hat takes a few steps but is worth it! Start by carefully slicing the Styrofoam ball in half. Paint the ball brown as well as the cupcake wrapper. Once the paint is dry, attach using glue a swirl made of the white yarn to the top of the "cupcake".
• To attach the cupcake to the wrapper, you'll need to carefully fill the wrapper with crumpled paper to give the Styrofoam ball a surface to sit on. Add a line of glue to attach it.
• When the cupcake is dry, you'll be ready to attach it to the headband. Cut a piece of thin cardboard in a circle and affix it to the side of the headband. Then glue the bottom of the cupcake to the cardboard.
• Carry around a box of cupcakes and you'll be the sweetest treat at the party!
You're a LifeSaver!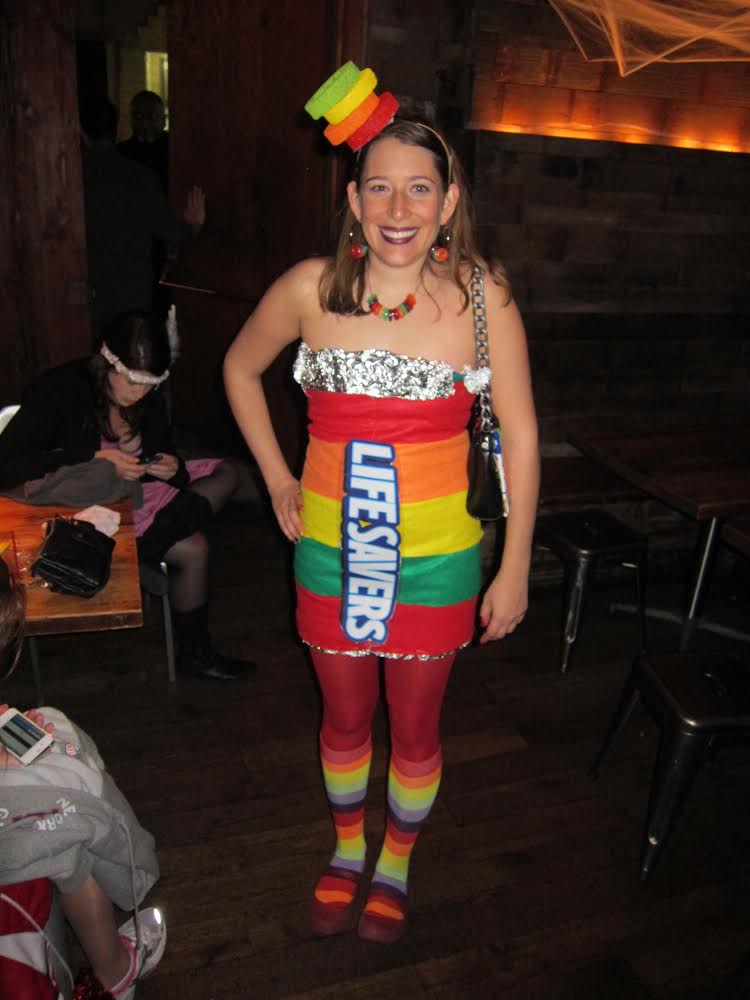 I loved the way this LifeSavers costume came out but it was so much work. This costume required sewing and a lot of work to create this unique look. When the costume starts to require sewing and gluing and making jewelry, I know I went too far! Also that aluminum foil was itchy on my skin all night!
What do you think Stacey will be this year? Follow her on Twitter to find out. Hint: It's a fruit!
Still looking for ideas? View more food costumes below…