Local blogger Rinku Bhattacharya has been busy—her second cookbook, Spices & Seasons: Simple, Sustainable Indian Flavors, hits store shelves next week, featuring over 150 recipes that encourage the use of ingredients from local farmer's markets. With a focus the growing demands on the modern family, Bhattacharya offers easy ways to introduce children to Indian spices via quick and simple recipes, like the one below for radish and scallion fritters.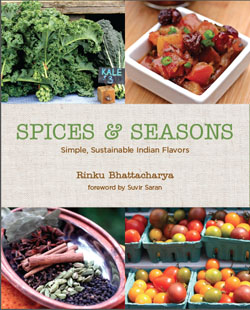 Buy the Book! Spices & Seasons goes on sale May 15 for $35. For more information, visit cookinginwestchester.com.
Radish and Scallion Fritters
Prep Time: 15 minutes | Cook Time: 25 minutes | Serves: 4
Ingredients
¾ cup besan or chickpea flour
1 tablespoon cornstarch
½ teaspoon cayenne pepper powder
½ teaspoon turmeric
1 teaspoon salt or to taste
½ teaspoon cumin seeds
15 red radishes, thinly sliced
½ cup scallions, finely chopped
2 cups or more oil for frying
Kashmiri red chili powder or chaat
masala for dusting (optional; see page 348)
Directions
1. Place the chickpea flour, cornstarch, cayenne pepper powder, turmeric, salt, and cumin seeds in a mixing bowl and mix well with a wire whisk (this is done to separate the lumps and ensure a smooth batter).
2. Gradually add enough water (about 1 cup) to make a smooth paste.
3. Stir in the radishes and scallions 4. Pour oil in a frying skillet or wok that is at least 6 inches deep and
heat on medium-high heat for about 2 minutes. Test the temperature of the oil with a drop of the batter, the mixture
should puff up and rise to the top.
5. When the oil is hot enough, drop the batter into the oil by the tablespoonful. Add about 3 or 4 fritters at a time, depending on the size of the wok. Leave adequate room for the fritters to move comfortably in the oil. Fry them for about 2 to 3 minutes and then turn the fritters and cook on the other side for the same time. It is important to make sure that the temperature of the oil remains constant and not too hot. The fritters should cook to a uniform golden brown on both sides.
6. Remove the fritters carefully with a slotted spoon and drain on paper towels. Dust with the chili powder or chaat masala and serve immediately while hot.
©2014, Recipe and Photograph: Spices and Seasons
Check out Rinku in the IntoxiKate Spring Guide: